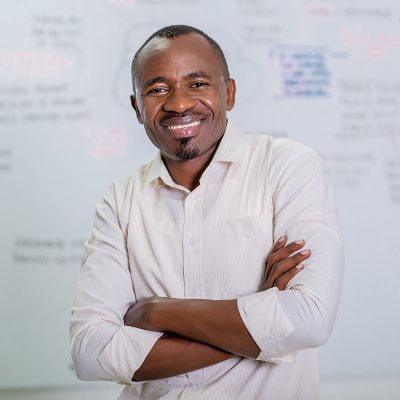 Monitoring and Results Measurement Manager
Emmanuel plays a supportive role in the design of monitoring and evaluation instruments. Specifically, Emmanuel designs result chains and measurement plans, monitoring and evaluations tools, coaches program staff on proper use of M&E tools, measures and monitors program interventions, collects and analyses quantitative and qualitative data, coordinates reflection and strategic reviews, coordinates both internal and external reports, among others. Ultimately, Emmanuel desires to assist teams across all portfolios to capture the right data to support informed decision-making.
He has extensive experience working with different stakeholders and clients in rural and urban communities, and special groups like vulnerable children, elders, refugees. He has worked in different capacities with different International organizations funded by USAID, USDA, DFID, DANIDA and other development partners. He has Non-profit working experience in international organizations including World Vision, Land O' Lakes, Heifer International, PACT Tanzania and Catholic Relief Services (CRS).
Emmanuel holds Bachelor of Arts in Economics from St. Augustine University of Tanzania and is currently pursuing Master of Arts in Project Planning and Management from the University of Dar es Salaam. He has been exposed to different on job trainings provided by reputable organizations like Measure Evaluations, Kimetrica, Donor Committee for Enterprise Development (DCED) and Institute for Economic Development and Planning (IDEP).