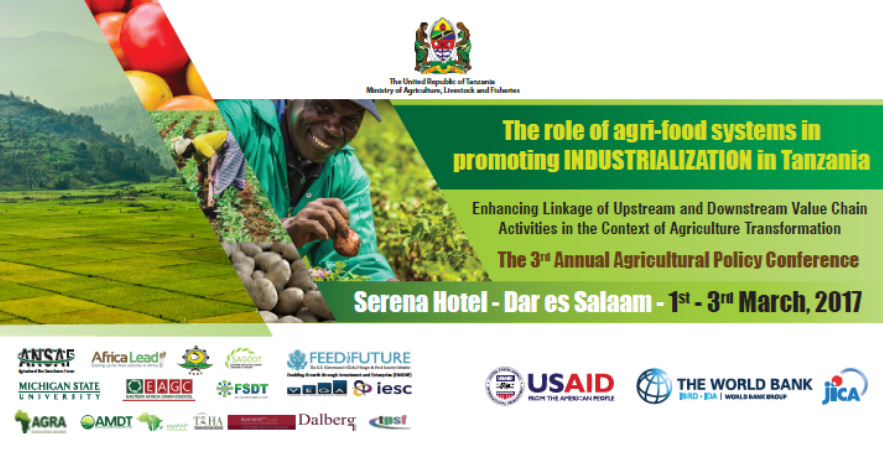 The Financial Sector Deepening, Tanzania's (FSDT) Head of Agriculture and Rural Finance, Mwombeki Baregu is a speaker at the third Annual Agricultural Policy Conference (AAPC) which takes place from 1st to 3rd March 2017 in Dar es Salaam.
The theme for the 3rd AAPC will be "The role of agri-food systems in promoting Industrialization in Tanzania."
Building on the success of the second Conference in 2016, the Policy Analysis Group (PAG) and the Ministry of Agriculture, Livestock and Fisheries (MALF) will again bring together key stakeholders working on agricultural policy projects and initiatives to discuss the challenges, opportunities, emerging issues and potential for further collaboration. The 3rd AAPC will bring together 150 key stakeholders in the agriculture sector in Tanzania and across the continent including policy makers, researchers, farmers, NGOs, and the private sector.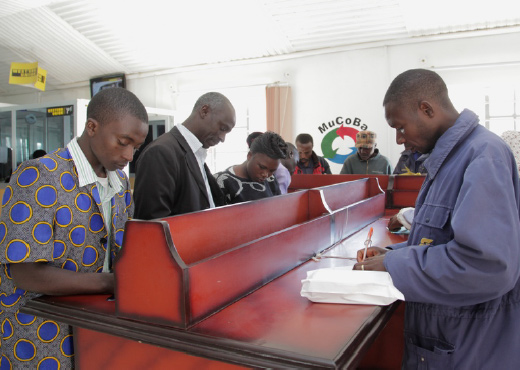 Tanzania intends to be a middle income country by 2025, to achieve this, the government has placed industrialization the top of its Development Agenda. In line with this, the Ministry of Agriculture, Livestock and Fisheries has developed an Agro processing Development Strategy for Tanzania which demonstrates how the agricultural sector would contribute to the national effort in achieving agriculture-led industrialization.
During the conference, Mwombeki Baregu will present a paper titled Access to Financial Services in Tanzania: the case of agribusiness in the panel session Access to Finance and Technology. Access to financial services, particularly growth capital, is a challenge for agribusinesses in Tanzania. From the AgFiMs survey, only 45.7% of agribusinesses have access to financial services. Even when agribusinesses have access, the kind of services and products available are not adequate to promote growth.
"The role of policy in creating an enabling environment that supports access to finance and stimulates availability of innovative and affordable financial products and services for the use and benefit of generating value is critical for growth of agro processing and industrialization in Tanzania. FSDT is proud to share its experiences at the 3rd AAPC and to be a part of stakeholders' efforts to achieve a supportive and successful access to finance enabling environment." – Mwombeki Baregu, Head of Agriculture and Rural Finance, FSDT.
Other themes of discussion at the 3rd AAPC will include: Agriculture Markets and Trade, Enabling Policy for Private Sector Investment, Land Tenure Policy and Agriculture Input Policy. As we near the 3rd AAPC, you can join the conversation online by following us on twitter:
@AAPC_Tanzania @Fsdtanzania
About the Policy Analysis Group (PAG):
The Policy Analysis Group (PAG) Established in 2013, the group provides a platform for sharing information on policy research and activities so as to enhance coordination, collaboration and synergy. PAG also aims at ensuring consistency in policy messaging.
About FSDT:
Established in 2004, the Financial Sector Deepening, Tanzania (FSDT) work aims to develop market systems that benefit underserved individuals, households and enterprises, offering them capacities and opportunities to improve their lives. This involves addressing challenges, and supporting innovations and market interventions in the financial sector through partnerships with financial sector stakeholders.